Uruguay's Punta del Este has long been the top holiday destination for many Argentines—think miles and miles of golden coast and countless beachside fiestas—and this month many polo players and their families headed east for a well deserved summer break.
Jose Ignacio may boast hip restaurants and trendy hotels, but, this year, Manantiales offered something like no other. Just two hundred meters from Bikini Beach, in a typical Uruguayan rancho, Teresa Donoso  Beresford set up a showroom boasting truly beautiful antique linen pieces, each hand woven, dating back to the 1800s. Most of the linens—which are used for decorative purposes—can be traced back to Hungary and Germany, as well as France, and even Transylvania.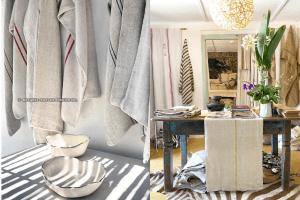 Both the Donoso and Beresford families have a rich history of polo; Teresa's real passion, however, relates more to antique scouting and interior design. Having worked alongside Argentina's top design studios for over ten years, she decided to take her business, Linos Vintage, to Uruguay.
The showroom has been the hit of the season in Punta del Este, with illustrious visits from the inimitable Maria Vazquez, the Ulloa family, and the electric Julieta Kemble, to name a few. The Linos Vintage showroom will be in Manantiales until the end of February, before opening again in Argentina in March.
Be sure to follow @linosvintage on instagram for the ultimate interior inspiration!
SHOWROOM MANANTIALES:
Calle Sarandi, bajada Playa Bikini (Manantiales Point).