Russian-born polo photographer Katerina Morgan introduced her fashion brand, which includes scarves with unique polo prints, with the hope of bringing more people into amazing sport. Each design is inspired by her own photographs featuring the stars of polo and their magnificent horses.
She also created the first silk scarf in fashion history dedicated to ladies polo, which forms part of a limited collection.
This is a dream come true for Katerina, who has wanted to have her own fashion line from a young age. She came up with the idea of using her images in order to create something fashionable, and that's how the silk scarves came into being – a way she can mix her love for polo, photography, art, and fashion.
Her designs are produced and manufactured in Lake Como, in the North of Italy, a place renowned for high standards, and also the home to luxury fashion brands, such as Burberry, Gucci, Versace, and Escada. Each scarf is designed using high quality silk, with hand rolled edges.
Katerina's scarves are both elegant and stylish, a perfect way to represent the sport of kings.
"All the polo players I have photographed over the years were delighted to form a part of my my project," shares Morgan. "My team and I are confident about the future, and we would like to expand production as well as offering many other classy items with polo images," says Katerina. "Our main goal is make a product that is available to the public and, at the same time, promote the polo horse worldwide."
The scarves are dedicated to the following players:
Adolfo Cambiaso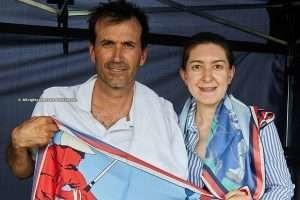 A fantastic strategist both on and off the field, Adolfo Cambiaso has won several tournaments both in Argentina and internationally. After leaving Ellerstina in 2001, he founded his own organisation, La Dolfina, which has become one of the most successful teams of all times, having won the Triple Crown in Argentina no less than three consecutive times.
In addition, Cambiaso is a remarkable horse breeder and a pioneer when it comes to cloning. The clones of his best mare, Dolfina Cuartetera, have been prized several times.
He is also the second polo player in history to win the highest sports prize in Argentina, the Golden Olimpia, an award only won by one polo player previously: Juancarlitos Harriott.
Pablo Mac Donough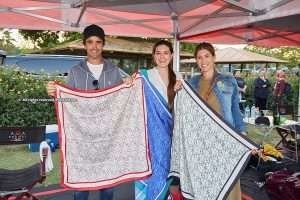 Pablo Mac Donough is another 10-goaler with a rich polo history (his family have links to the Pieres, Garrahan, and Buchanan families, among others). Along with his brother, Matias, Pablo heads La Irenita, the family organisation. Their horses, which have been prized many times, are ridden not by Pablo and many other top players.
Pablo has won Triple Crown tournaments in Argentina many times, both with Ellerstina and his current team, La Dolfina. He is an exquisite, powerful player with a great mind. 
Pablo and Pablo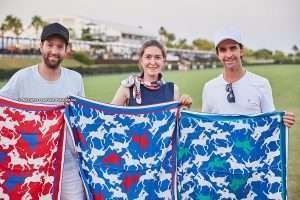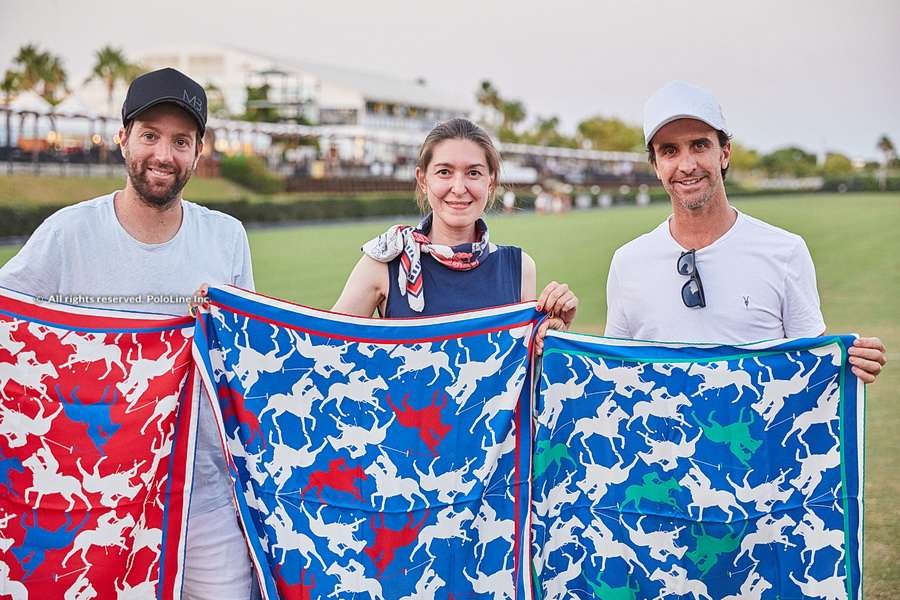 Dedicated to two 10-goalers with the same name, Pablo MacDonough and Pablo Pieres.
They have never played together, but they faced each other in several tournaments around the world. They have been rivals in the biggest derby of modern polo, when La Dolfina takes on Ellerstina, something which can be seen in the design of the scarf.
Clemente Zavaleta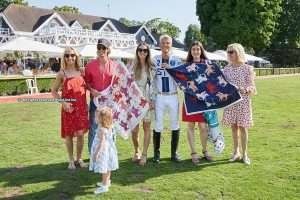 Clemente, son of the former high goal player Clemente Zavaleta Sr, comes from one of the most important polo families in the world. Clemente has played with Alegria and La Irenita, and he spends a lot of time in France, coordinating one of the country's biggest polo organisation, Sainte Mesme. 
Cubi Toccalino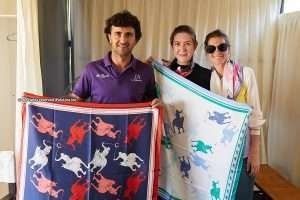 Ignacio "Cubi" Toccalino is an Argentine high goal player who has made a successful career in Argentina and overseas, particularly in England, where he forms part of Alessandro Bazzoni's organisation, Monterosso.
Polito Pieres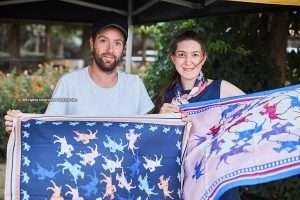 Pablo "Polito" Pieres forms part of one of the most important polo families in the world. He is the son of Pablo "Paul" Pieres, and nephew of Gonzalo and Alfonso, former members of La Espadaña, multiple winners of the Argentine Open in the 80's.
CHECK OUT MORE DESIGNS HERE: